Well, I said that I would tell you what was keeping me away from the blog, so here it is.
Actually, it is more than one thing. I have been very busy at work, so coming home to sit at the computer to write some more isn't high on my list of things to do. But the bigger thing has been what many of you are already aware of, we had to say goodbye to our dog Bogey back on July 31.
We did see the day coming. In fact, the socks that I made for Mr. Penney's birthday are in the Hounddog colorway because of how closely it mimicked Bogey's own coloring.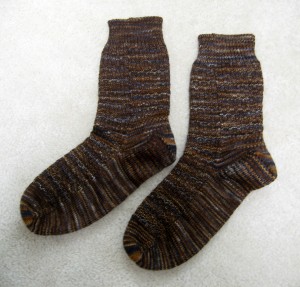 It sounds silly to some, I know, but without having Bogey around; things just have not been the same around here. Motivation to do things kind of went away with him.
As time passed, we decided to start looking at rescues because we thought that maybe we should give another dog a home. At the same time, we decided to donate items to be raffled off by our vet because of how good they were to us when the time came for Bogey. They use the funds from the raffle to pay for the medical expenses of strays that people bring in as well as those that don't have enough to meet the bills that a pet can sometime rack up. Paul donated a gift certificate for a massage, and I donated the shawl that I entered in this past year's Maryland Sheep and Wool Festival.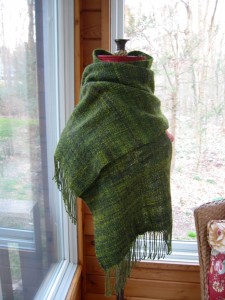 Just as Paul was about to leave the house to take our donations up to the vet, the vet emailed Paul. Mind you, the vet had no idea that Paul was coming over there with donations, nor that we were contemplating adopting a dog. The email was that a beagle had just come to them through one of their other clients. This beagle's owner had just died, and the beagle needed a home or he would be going to the pound. Were we thinking about adopting a dog?
The stars had aligned and we adopted Comet, a six year old beagle on December 15.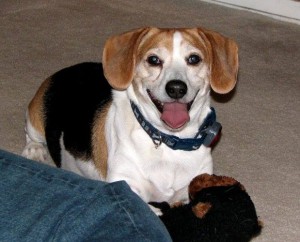 Are things the same? No, but they aren't supposed to be the same either. Comet is a very good boy, like Bogey was, but has a good bit more energy. He is still getting adjusted to his new home, as he was shuffled around for awhile before he came to us.
I must say, when I was contemplating writing this blog entry over a month ago, this was not the ending I thought this story was going to have. But I am very glad it does end this way, by beginning something new. We still miss Bogey, but we like to think that he was somehow involved in getting Comet to us.
Next up, one more reason why you haven't heard from me in awhile.
Copyright 2013 by G. P. Donohue for textillian.com