Well, Mel ask for a close up, so here it is.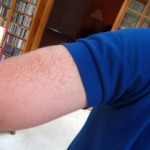 Yep, the tattoos are long gone. They only lasted about two days, and then they started to wear off, so we washed them the rest of the way off. You see, they were only airbrush tattoos. Sorry to disappoint.
We got the tattoos on vacation down Rehoboth Beach, DE. On our first night down there, we were walking Rehoboth Avenue, and saw the tattoo designs outside of a place that does teeth whitening and spray tans. (Wait, it gets better.)  As we were looking at the designs, our twelve year old saleslady comes out to greet us and inform us that the airbrush tattoos are buy 2, get 1 free. How could we refuse? (So, Roseann, you are correct, there was a Chinese character on Mr. Penney's upper arm. That one was performed by our young saleslady. That was our free tattoo.) The tattoos were rather realistic while they were on, as we went to the Double L (a leather bar) and people were surprised to hear that the tattoos were not permanent.
As for how long they lasted, they started to wear off after two days. Not wanting to look smudged, we washed them off after that.
I was actually kind of surprised by how mine looked. While I like how tattoos look on some people, I figured it just wasn't something that wouldn't look right on me, like I was trying to be something that I am not. But the armband that I chose, that couldn't go around my whole bicep (Welcome to the gun show!), reminded me if ikat, and didn't look totally out of place on me, like I feared. Maybe one day I will get a tattoo, but I do have the concern that Lisa expressed, which is how it will look 30 years from now. Everything might not be so taut and lovely as it is now.
As for fibery things, all that is moving along at a good pace. Here are a couple pics of the spinning as of a few weeks ago.
All of my available bobbins were full for this picture. I have had to wind the yarn off the bobbins to free them up for more spinning, of which I have done two more bobbins. I figure I have about three more bobbins worth of spinning to go with this fleece. I am thinking of dyeing the yarn different colors for warp and weft, so if anyone has recommendations for dyeing handspun singles such that they do not become an unruly mess, I am all ears.
The socks are nearing completion.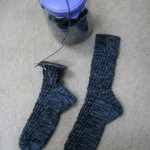 And Roseann was correct again, these are for Mr. Penney. His birthday was while we were on vacation, and these are to keep his feet comfy. They were also a chance for me to test knit the write up of this pattern, which was a good thing, because the instructions for the heel were a mess.
The scarf is coming along as well.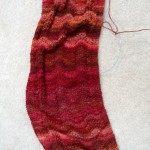 It is still kind of boring as far as knitting projects go, but the change in colors helps.
And there is one more thing,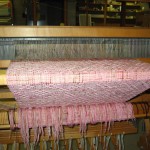 That I will get into later.
Copyright 2010 by G. P. Donohue for textillian.com