Last time, I promised you that I would show what else I had going on besides the rugs; and true to my word (if a bit late), here it is. Let's start with Benedict.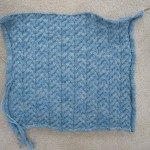 I am on my second of the six skeins of baby alpaca and am just about to start decreasing for the armholes, so I know that I should be good on the amount of yarn that I originally purchased. Woohoo! My calculations were correct!
Benedict isn't a difficult knit, but it is a long knit due to all of the cabling. It is a six row pattern, and it takes me about an hour and a half to do one pattern repeat. Yeah, this may take a while, which is why it is nice to have something that goes a bit faster.
This is Wullenstudio's colorway "YMCA". (I am the one that contributed the name. Thank you. Thank you very much.) I am doing one of my old standby's, the basketweave rib. This stitch pattern seems to work well no matter what the yarn's color patterning is because of the combination of garter and stockinette. As of this writing, the first sock is done, and I am about to start the second.
Now, knitting has not been the only things going on. There has also been spinning.
You have seen both of these before in their single state. Now they are plied and complete. Both are from Dragonfly Fibers. The first is silk and camel in the Bad Moon Rising colorway. It is four ounces, and I still have another four ounces of this colorway to spin, as well as another six ounces of silk and camel in the Titania colorway to go along with it. The other yarn is Sea Monster (silk, merino, and seacell) in the December Baby colorway. You are looking at a total of eight ounces that is pretty close to worsted weight. Both of these yarns will be used for weaving.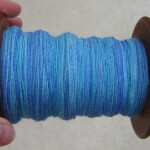 This is merino and bamboo that I got as part of Fiber Optic's "As the Whorl Turns" fiber club. Each month, Kimber makes three colorways using a country as inspiration, and as a member of the club, you get to select which one(s) you would like to purchase. What you see is the February selection, Jai Ting, from the inspiration country, China. I have this single Navajo plied, but I have to go back and fix it up some, as it is a bit overplied.
With that said, I have quite a bit of spinning in my future, as I have participated in several clubs, including Dragonfly Fiber's winter mini club:
With what you see here being Admiral Benbow colorway in Bigfoot roving (BFL and silk), With a Cherry on Top in Sea Monster, and Winter Wood in Polwarth roving.
My March selection for the aforementioned Fiber Optic "As the Whorl Turns" club is this: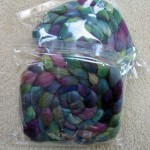 The inspiration country is Scotland and this colorway is called Thistle in BFL and silk.
Last but not least, I am also a member of Spirit Trail Fiberworks club, with the first two shipments being these:
The first one is February's colorway in Polwarth. The second one is March's colorway in merino and silk. April's colorway just arrived today. It is a beautiful combination of deep blue and purple on silk and cashmere roving. Yum!
All of the dyer's I just mentioned will be at Maryland Sheep and Wool Festival in some shape or form. Wullenstudio and Dragonfly Fiber can be found at the Cloverhill booth. Fiber Optic can be found at the Fold's booth. And Spirit Trail will have their own booth.
Speaking of the festival, if you need to find me, this is where I will be.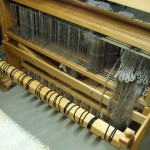 Copyright 2011 by G. P. Donohue for textillian.com