Just in case you were worried: No, I have not stopped knitting.
This little odd looking thing is a "proof of concept" sock for me. See, it is an actual sock.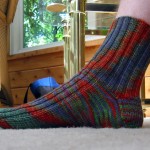 It really doesn't look too unusual, does it? The only thing different about it is the heel. I noticed in Cat Bordhi's book that she does 2 increases every 3 rounds until she has added 50% more stitches around the sock. In Wendy Johnson's book, she does 2 increases every 2 rounds; but doesn't go up to a full 50% of additional stitches. Another point is that both women use a short row to shape the heel rather than the decrease-knit-slip back-turn. This sock is to see if I can increase 2 stitches every 2 rounds for the addition 50% in stitches and do the decrease heel shaping to get a properly fitted sock.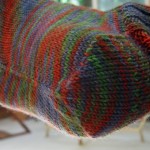 Over all, I think I have proven (to myself, at least) that it can be done. I do have a bit of a pocket there at the heel where the increases meet the decreases, but I believe that is due to where the increases are located on the sock. I went with Cat's thought that you can put the increases anywhere, so I lined all of my increases up the center of the bottom of the foot. Having three "corners" meet like that is the cause of the problem, hopefully. I'll find out of the second sock by putting the increases in a different place.
BTW, the yarn is Socks That Rock lightweight in Bait-a colorway that I got at MDSW. I used the square needles that people are talking about. They are nice needles, but I still like my Addi Turbo 12″ circulars better. I am just faster with the Turbos than anything else because I don't have as much fiddling around when it is time to turn my work. The problem is that I had is that they didn't make 12″ Addis in 2.25 mm, or at least so I thought. But thanks to Opal for mentioning the Addi Needle Shop, I found them. Woohoo! I would show them to you, but I am currently using them to knit up the prototype for the winter sock for sock club; and I can't let you see that.
I can let you see this, though: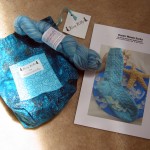 It is the summer shipment for Sheila's sock club. The colorway is called Kokomo, and the project bag is by Kozy Kitty. Neat-o, huh!
Copyright 2009 by G. P. Donohue for textillian.com