With finishing up the one pair of socks, it was time to cast on another project. Since a friend of mine gave birth to a son earlier in the year, and I hadn't completed anything for said child yet; I decided that I needed to knit up something for the boy. (I did have a little romper cut out and ready to sew for him earlier in the year, but never go around to sewing it because of the accident put be behind on so many things.)
So what to make for the boy that is approaching the one year mark?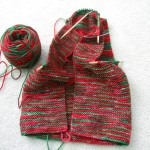 A red and green blob! Well, it looks like that in my fine photography, but it is actually the Modular Tomten Jacket by Elizabeth Zimmerman. I am using Sheila's superwash merino worsted weight in the Rockin' around the Christmas Tree colorway. I picked the colorway in part to motivate me to get it done before Christmas. So far, it has been a pretty easy, mindless knit. What you see there is about week's worth of knitting, where I am finished the body, about to start the hood, and still need to do the sleeves.
I have also given a try at plying my first course from my Hungry for Handspun subscription.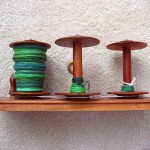 This isn't going so well. The big bobbin is the single, while the other two are how far I got on each before the single broke. Not a whole lot of progress, eh?
The single keeps breaking on me. I think I am going to have to wind single onto a Woolee Winder bobbin in an attempt to get a more even feed, and thus less breakage. Hopefully, that will do the trick.
And for those of you anxiously awaiting the Winter shipment of the sock club, it goes out to you this week. I have started a "knit along" for the sock on Ravelry. What this basically amounts to is a forum where you can ask questions about the pattern and any techniques that you may be unfamiliar with. I will also be hosting some chats there. Here, I will be giving some basic instruction on what I do when making socks (things that will apply not just to the pattern, but to most of the socks that I knit.) Yeah! Blog-fodder!
See you soon!
Copyright 2009 by G. P. Donohue for textillian.com