Reference Actually, this is my least favorite track on the CD.
This is kind of embarrassing to admit, given how I tease others for having to go through their stashes so that they don't go out and buy something that they already have hidden away somewhere; but when I went searching through containers to find the worsted weight that I told you about in the last post, I found yarn that I forgot that I had! Fortunately, it is such great stuff that I have gotten over my embarrassment rather quickly.
As a means of setting the scene, the Interlacements yarn was purchased from Judy Ditmore during MAFA's 2005 conference. That was the same time that I purchased the yarn for Mr. Penney's sofa shawl. Well, one of the other vendors at that conference was Habu!
Yes, that's right. It was chance to see Habu's yarn's first hand, rather than just on the website. And to see and touch these yarns meant that I had to purchase some.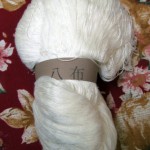 This is 20/3 bamboo. It feels wonderful, and I have 13.7 ounces of it. SQUEEE!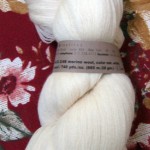 This is 2/48 merino wool. I have about 7 ounces of this. There is no suggested epi for this yarn on the site, so I am going to have to do a wrap to find out what sett I will do.
And finally, there is this little wonder, 21/3×2 silk organize. According to the label, there are 4600 yards per skein for this silk, and I have 4 skeins of it. Working with this will probably make my head hurt, but it will be worth it.
Now, if you notice, all of this is undyed. Toward that end, this arrived in the mail the other day: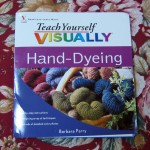 Granted, I have done dyeing before; but having additional references is never a bad thing for me. Dye days will be in my future!
Copyright 2009 by G. P. Donohue for textillian.com