So, to whom do I owe my speedy ability to do a blanket twist fringe on my weaving?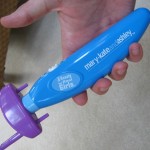 Why the Olsen twins, of course! This trusty little twisty braider is the tool I use for doing fringe on scarves and shawls. Here is how it works.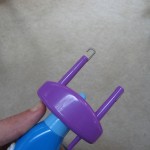 On this model, there are two prongs with hooks that you can access by pushing up on the bottom of the prong. There are models that have three prongs, but it was hard enough finding this one, so I am not going in search of a three-prong-er.
Place a bout of warp threads that are to form the fringe in each hook.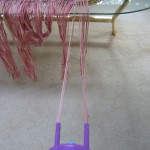 Try to keep where the hooks are securing the bouts even so that the bouts get twisted the same amount.
Now to do the twisting.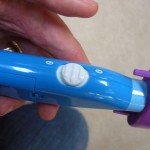 There is a button on the side of the braider. Moving the button up towards the "1" marking causes the prongs to twist clockwise.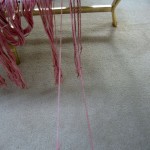 This twisting is the important part to be consistent on. There are two ways to judge your consistency between twists that you do along the width of your weaving:
By feel. The more twist that you put into the yarn, the harder it will feel. While it does take a little practice, it is easier that it sounds.
By angle of twist. Angle of twist is the same as it is in spinning yarn, the angle that is formed by the yarn. You should be able to do this by eye, with no need to get out the protractor.
Why don't we use counting the number of twists as they go into the yarn? Because 1) the hooks may be grabbing the yarn at a different distance from the weaving as you do each piece of fringe so the same number of twists among different lengths of yarn will produce different looking fringe, and 2) those prongs go around so fast, you will have a tough time counting.
Now, it is time to twists the bouts around each other by moving the button towards the "2" marking.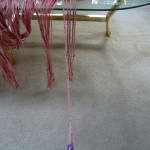 This moves the prongs around as a set counter-clockwise. Don't get to concerned about your consistency on this part this, as the bouts will naturally twist on each other to achieve a balanced fringe.
Now, just tie a knot to secure the twist while wet finishing.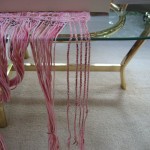 After wet finishing, I re-tie the knots so that the fringe is the same length across the width of the weaving, then trim the fringe near the knots.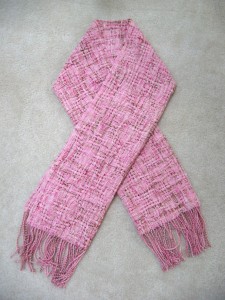 And here is the shawl again. If you would like to win this shawl, or just support Komen of Maryland, just sponsor me in Race for the Cure. For every $5 you sponsor me for, you get an entry in the raffle for the shawl. The race is October 3, and the raffle will be October 10 at 5 PM Eastern.
Copyright 2010 by G. P. Donohue for textillian.com