I was starting to put this entry together and was thinking about what I was going to say about the final product, when I realized that I have really gotten behind on showing things here and never showed the yarn that I used for it.
This is yarn that I spun a little over a year ago from two different colorways of BFL from Dragonfly Fibers. I got them when Kate had a trunk show at Cloverhill. The colorways are Cherry on Top and Ode to Sock Summit. I spun up each colorway and plied the two together. I figured that there was enough common between the two colorways that it would all work out.
I originally spun this yarn to make something for someone else. But we always think we have more time for things than we actually have, and I only got as far as the yarn.
Lately, I have been on a kick to use my handspun, so, with a year passing, I figured it was time to make something with this yarn to see how it all work together. I decided to make a small, simple shawl, which is what I had originally planned because with all of the color going on in the yarn, any kind of fancy stitch pattern or tricky design would fight with the yarn.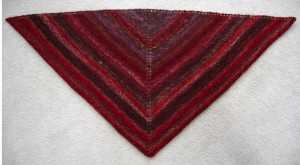 I really like how it all came out. The colors worked out well together. While working this shawl, I really enjoyed seeing the color combinations go by.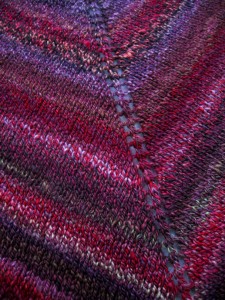 I gave this shawl to a friend of mine that just finished up her chemo treatments. She was surprised to say the least, and very thankful.
Copyright 2013 by G. P. Donohue for textillian.com.