Ok, that seems like a really odd title for a post about baby blankets, but I will get to that in a bit.
Turns out that my niece Maureen, Colleen's twin sister, is also expecting and is due pretty darn soon. And not only is she expecting, but she is expecting twins! Yes, double your pleasure, double your fun. So I decided to weave her some baby blankets using Sheila's sock yarn. One of the advantages to weaving is that I can warp the loom once to weave two (or more) if I choose the right pattern.
Here are the resulting blankets.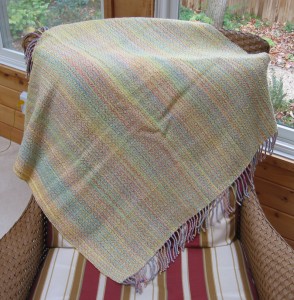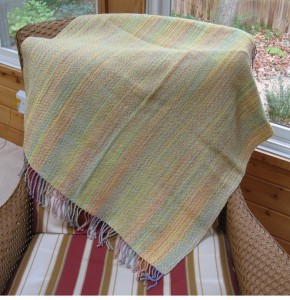 The colorway for the warp is Watercolor and the colorway for the weft is Yellow Submarine. The weave patterns come from the book A Weaver's Book of 8 Shaft Patterns. These two patterns are called plaited twills.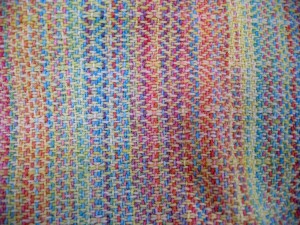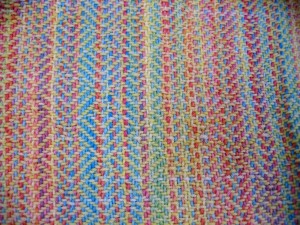 Now one problem with choosing these weaving patterns is that they require twelve treadles to weave them according to the pattern as written. My loom only has ten treadles. That is where the skeletons come in. More precisely, a skeleton tie-up.
A skeleton tie-up is a way to reduce the number of treadles needed to weave a pattern by requiring the weaver to use more than one treadle for a single pass of the weft yarn. There can be a lot of trial and error in figuring out how to reduce the number of treadles needed, but luckily, in this age of computers and Internet, there is Tim's Rudimentary Treadle Reducer that can figure it out for you! This is the route that I went.
So I started out with this tie-up from the book, with the d's underneath showing the treadling for the tie-up: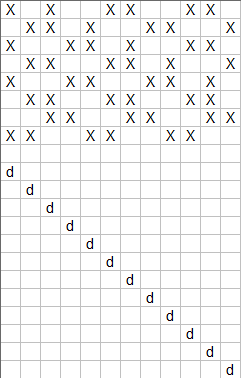 By plugging in 10 for the number of treadles to reduce to, I got this: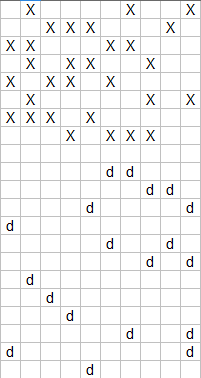 Then I thought, maybe I could go even lower, so I tried 8. What I got was nothing, as it couldn't go down that far. I decided not to be so greedy, and tried 9. This is what I got back: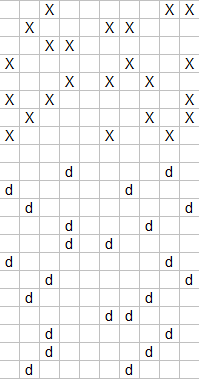 I decided to go with this one because for each shot of weft, I had to use two treadles, as opposed to the 10 treadle tie-up that sometimes used one treadle, and other times used two. Having each throw of the shuttle require two treadles to be depressed would be more consistent and easier to remember. It all worked out, as you can see.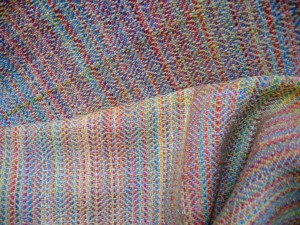 Probably the strangest part of all of this is the amount of time it took to do the fringe. It took almost as much time to twist all of that fringe, even with my trusty Mary Kate and Ashley twisty braider, as it did to weave the blankets. It is all in the details.
Copyright 2012 by G. P. Donohue for textillian.com