Well, another Maryland Sheep and Wool Festival (or as Mr. Penney likes to refer to it, "My Christmas") has come and gone. I helped with the set up of the skein and garment competition again this year. It seems to be taking them longer and longer to get the judging done, which means setting up the show is starting later and later.
Mr. Penney went with me the first day. What was only supposed to be two hour turned out to be four hours, but Mr. Penney was a trooper and even carried my bag! I did get to see a lot of people that day, including Roseann!
Here is the first day's loot.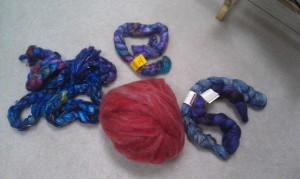 Not too bad, huh? Well, I did go back Sunday to see the vendors that were just too busy on Saturday to even make it into their booths and also to get my entry from the skein and garment competition. Well, restraint kind of went out the door.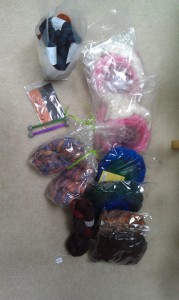 Yeah, I am kind of stocked for a while (like I wasn't before).
BTW, my entry in the skein and garment competition got a first place. My class was handspun and handwoven blankets, afghans, shawls, and scarves. I didn't get a good picture of it in the competition, but here it is resting comfortably in my chair.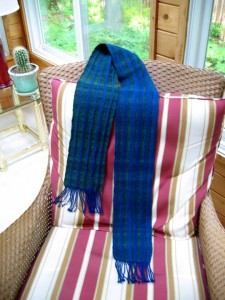 Next time, I will got into how I made it and how the color interaction class that I took with Su Butler affected it.
Copyright 2012 by G. P. Donohue for textillian.com