Well, I got some good news last week. The investigations into the accident are over, and everything came out in my favor. While I never doubted that I was not at fault in the accident, things don't always come out the way they are supposed to. Fortunately, they did in this case.
In more good news, I got the Monkey's Wrench socks done!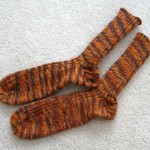 They were Mr. Penney's Easter gift, and they were actually all washed and ready for him on Easter morning. I was a little scared that the sea silk might be kind of rough, but a trip through the wash softened the socks up a fair bit, and they seem like they will be comfortable while still wearing well. I am sure Mr. Penney will give me a report soon.
Copyright 2009 by G. P. Donohue for textillian.com