Another Maryland Sheep and Wool Festival has come and gone. This year, the weather could not have been more perfect. It was just cool enough for those that wanted to wear the sweaters and shawls that they had knit could do so without dying from heatstroke, and it was sunny the entire weekend. People thought I was a little underdressed (I was in t-shirt and shorts), but I work in a freezer-like environment, so my personal thermostat is a bit off at this point.
While I still got plenty of fiber this year, it is nowhere near the amount that I have purchased in past years. This is mainly due to not having gotten to working with what I have purchased in past years, and I didn't see a point in just adding to the queue if I didn't already have a project in mind for it, or if I already had something extremely similar waiting for me at home. So I did not get a fleece this year, nor did I get any large bumps of Romney and mohair.
That is not to say that I came home empty handed.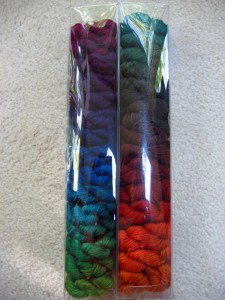 On Saturday, my first purchases was at Kimber's Fiber Optic booth. She has started applying her gradients to yarn as Paintbox Gradients, and she had those that she has already released at the booth. I picked up Bitter Lime to Rose and Copper to Verdigris on Kashmir sock yarn. Each little skein is 30 yards, for a total of 450 yards for each colorway.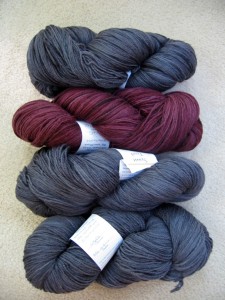 I then stopped by Jennifer's Spirit Trail Fiberworks booth for yarn to make a cardigan. As I already mentioned, I work in a freezer-like environment, so I have decided that I am going to make myself a cardigan to wear at work. This yarn is Brigantia, a DK weight that is 85% Polwarth wool and 15% silk. The skeins are arranged as shown because I am planning on a stripe across the chest. I am going to be using one of Ann Budd's Knitter's Book of Handy… patterns for the cardigan, though I have not entirely decided which one.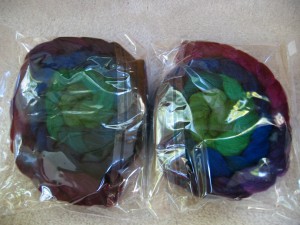 On Sunday, I went back to Fiber Optic to pick up Bitter Lime to Rose in the merino/silk to spin. For some reason, I always miss this on the pre-orders, so I picked it up at the festival, since it has all of my favorite colors in one place!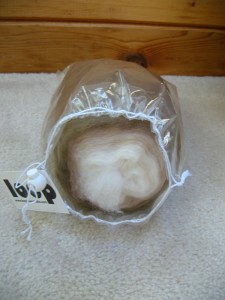 I also picked up a bullseye bump from Loop. The colorway is Sand Dollar, and the fiber is merino, tussah silk, and bamboo. I have seen these around for awhile and always wanted to try one. I currently have it on the wheel, and will give you a report on it later.
Finally, on Sunday, I picked up my entries.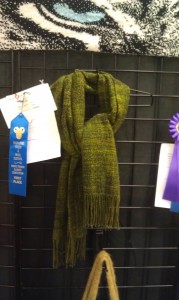 The shawl got a first place, though it was moved from shawl to scarf, which is fine by me.
And my blanket, that has been a poorly kept secret, also got a first in its category: blankets made with at least 50% wool. I will tell you more about this next time.
Copyright 2013 by G. P. Donohue for textillian.com