You may remember this handspun from a while ago.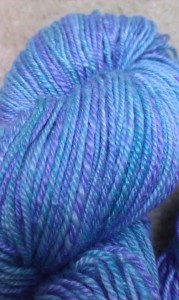 The fiber is superwash merino and bamboo from Fiber Optic. When I saw it, it reminded me of water, which made me think of my sister, as she and her family like going "downy oshun". (No, they do not talk like that.)
With that in mind, I went looking for a shawl or shawlette pattern that work with the yarn. I found the Sally Rand pattern on Twist Collective. Feather and fan is one of my favorite patterns for variegated yarn because curves made by the stitch pattern gives such movement to the colors. It all made me think waves crashing on the beach. I thought it would make a good birthday gift for my sister.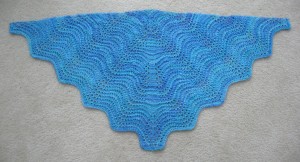 I didn't do the full shawl because I didn't have enough yarn for that, but it should be good as a shawlette. The bamboo in the yarn gives it a nice drape. I am pretty happy with how it came out.
Copyright 2013 by G. P. Donohue for textillian.com.