I am finishing things!
The other weekend, I finished the singles I was spinning.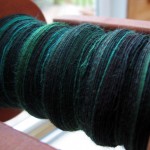 I have no idea where I am going to go with it from here. Maybe two ply, maybe a Navajo ply. I am not sure right at this moment.
And this weekend, I finished these!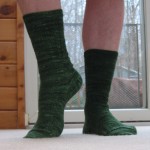 Yeah! The Christmas socks are done. I am in the process of writing up the instructions. Hopefully, they will be my next post.
Copyright 2009 by G. P. Donohue for textillian.com