Since I that I have been talking about for the past month involved the shawl or the race, you may think that is all that I had going on for the past month. But my hands have been busy with other things. One of those is finally blocking the scarf that I knit.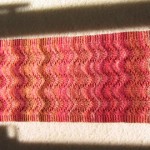 Here is a close up of the scarf.
I finally got blocking wires, but after getting the scarf out of the water, I determined that it was going to be too much of a pain to try to thread the wires through the scarf so that I could pin it in place. Luckily, all I had to do was lay the scarf flat and "nudge" the scarf into the shape I wanted it to be. No pins. No wires. Pretty easy.
I liked the way the scarf came out. The merino/silk was easy to spin, and it worked up well in this stitch pattern. The scarf went into the mail Wednesday night, and may have already made it to its recipient.
With that off of the needles, you know there is going to be something else going on them.
This is a sock that I am knitting in Wullenstudio's sock yarn in the colorway "Carolina in My Mind." I loved the color as soon as I saw it, and have been wanting to use this stitch pattern, called Heraldic pattern. I am very happy with the two together.
That doesn't always mean I am happy with two together. The following may be the death of me.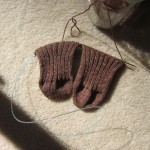 I decided to try my hand at making socks two at a time on one circular needle. I am doing this because I wasn't sure how well the yardage for this yarn, Miss Bab's Bamboo Baby, would work for a pair of socks; and doing the socks together like this would mean that there would be no guess work on how long to make the socks.
Well, any efficiencies that I had in knitting socks are gone here. Having to drop the yarn and pick the other yarn up so often is kind of a pain, and I am used to measuring my progress in knitting in a particular way that is not compatible with this. I know some people do there socks this way all of the time, but it is definitely not for me. At least it can't be said that I never tried it.
Knitting isn't the only thing going on. There is spinning, too!
This is the Merino/Angora/Cashmere (60/20/20) that I picked up from Spirit Trail at Maryland Sheep and Wool Festival. What you see there on the bobbin is four ounces. While I was spinning that much up, I decided I needed another braid to spin up to go with it so that I could have enough to weave a scarf. As luck would have it, Spirit Trail had a sale, and I was able to get another four ounces, part of you which you see around the bobbin. The coils that you see on the right hand side of the picture have already been pre-drafted and are ready to spin, while the ones on the left hand side haven't been pre-drafted yet. While it is an enjoyable spin, I am not speedy at it. That bobbin took me over eight hours to do. And people wonder why I don't make a living at doing this….
Copyright 2010 by G. P. Donohue for textillian.com