It's been a while since I have actually talked about what I am actually working on, so I figured now would be as good of a time as any to do that. First, the infamous Ice Ice Baby sock.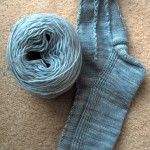 I took this photo this morning. I finished off the first sock this evening after dinner, ready to start the second sock. Roseann found another boo-boo in the instructions, so I will be updating the errata post for the sock with that information. Again, it is not a matter of fit, just how the stitches fall, setting things up for the 1×1 ribbing for the cuff.
Before I was able to bring Ice Ice Baby to Wednesday night knitting (because the pattern had not been released yet), I started the summer sock from Sheila's sock club, Kokomo.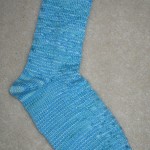 I converted the pattern to a toe-up sock and used a short row heel. I am knitting these on 2.25 mm needles instead of 2.5 mm, as the recipient has really tiny feet (at least in comparison to my feet).
Finally, with all of this knitting, I felt the need to do something other than knitting during the holidays. Fortunately, my swap partner in the Winter Wonderland Swap sent me some alpaca roving. I spun that up in no time and am now working my way through a pound of Romney/mohair blend that I got at the MSWF a couple years ago.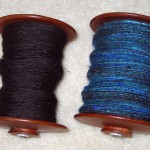 The black singles are the alpaca, and the blue/green/purple is the Romney/mohair. I will be winding these off their bobbins into center-pull balls so do two ply onto themselves. That is pretty much my default means of making a two ply.
Copyright 2010 by G. P. Donohue for textillian.com