Thank you all for your concern over the accident. It is much appreciated. The biggest thing that I want right now is for life to get back to normal, as I must admit that having to deal with some aspect of the accident everyday has been kind of stressful. That is why it was so especially nice of Roseann to send me these books that I have been wishing for to cheer me up!
Ain't that sweet of her! Thank you Roseann. I have already made a muffin recipe from the cookbook and they turned out great.
The baby sweater is completely done and ready for shipping.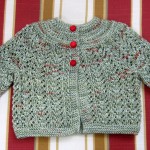 With any luck, it will arrive before the baby does.
And, I have one of the Sea Silk socks done.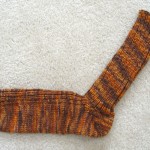 I do love the coloring that Mr. Penney picked, though the fabric itself seems a little on the stiff side. It may soften up after a wash. Also, I thought the same thing of the Trekking Pro Natura, and they turned out to be a favorite pair of socks.
More soon.
Copyright 2009 by G. P. Donohue for textillian.com