Recently, a friend of mine from work said, "Oh, did I tell you we are expecting another child? She is due in March."
Ok, not giving me a lot of time here! So I went on ravelry to see what yarns people were using for Baby Surprise Jackets. One of the yarns that I noticed was Jitterbug. I have a ton of Jitterbug!
Then I thought, "You know, I could do that baby sweater from Knitter's Almanac, since they are expecting a girl." And thus, this project was conceived.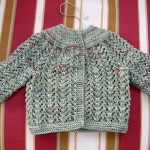 The colorway is Moss and it took a little over a week to knit. I would have taken less if I hadn't started out with some gawd-awful bamboo that were a pain in the neck (and parts lower) to work with. I got a set of Addi Turbo Lace needles at Cloverhill, and I have to tell you, the lace needles made this go so much faster. I see more of them in my future.
All that is left to do with the sweater is to sew on the buttons and to give it a wash. I am pretty happy with the results, though there was one disappointing thing with the skein of Jitterbug: there was a knot in it. I haven't had that happen to me in a long time, as most sock yarns don't seem to have that problem. I wound up cutting out the knot and doing a Russian join to take care of the situation.
There has been spinning as well.
This is merino in the Black Watch colorway from Mama E's C*eye*ber Fiber. I picked up the roving at MSWF from the Cloverhill booth. The areas that I thought were black are really just a very dark green. It is an interesting spin. What I am going to do with the resulting yarn is yet to be determined, but it is a nice break.
Copyright 2009 by G. P. Donohue for textillian.com