Well hello, everyone! Have you missed me? I've missed you! Boy, have I missed you.
I won't go into what kept me away from here for so long, mainly because it brings about a lot of cursing on my part. Let's just leave it as, "I did a lot of work, and now I get to have my life back."
My life hasn't been totally fallow of textiles during this period of get up, go to work, come back home, go to bed. Remember this?
Well, its mate is done. I made these for Mr. Penney as part of his anniversary gift, but gave them to him early because he was so good to me during the past couple months, picking up the slack around here. The socks are currently in the wash, so no new pics of them; but the one sock looks like the other, so it is not like you are missing anything either.
And remember the Winter Wonderland swap? Well, Kati sent another package, in the package was a treat for Bogey, as well as this: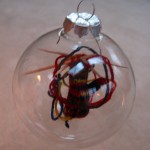 Sorry for the crappy photo. Its a tiny knitting project (a mitten) on tiny dpns inside a Christmas ball. Amazing, huh!
By the way, I have been asked about the ornaments that I sent in the swap package that I put together for her. Here are the two ornaments: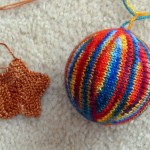 The star is from EZ's Knitters Almanac. I used Dave Daniels' silk that was left over from weaving the scarf (which is a nice way to free up the bobbins.) The ball is Brent's knitted sphere pattern (which sounds nicer than saying Brent's balls.) The yarn is the leftover yarn that I had from making the Pride socks, again from Dave Daniels.
I like the sphere pattern so much (and had more bobbins of silk to free up) that I continued to make Christmas balls with the silk, though I was able to completely finish one in time for Christmas: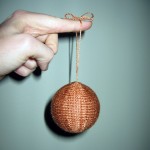 Again, a great way to use up leftover sock and fingering-weight yarns, while being a pretty quick knit. When I get around to sewing up the second silk sphere (say that a few times fast,) I will share the one change that I made to make sure everything was perfectly symmetric on it.
I did get to finish on of the Tannenbaum socks:
I hope to at least work up the charts for the socks this week, and post them on Ravelry. I hope.
Since I finished Mr. Penney's socks, I needed a new simple sock to work on. Thus, these came into being: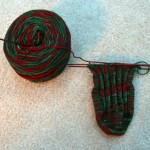 The sock yarn is Sheila's "Rocking around the Christmas Tree" colorway. (The color is not true in the photo. It is so much better in person.) The stitch pattern is the slip stitch rib that can be found in the Schurch book. I am using the Lattern Moon needles, which I am not too fond of. I have already broken one of them, and I am not one that normally breaks needles. I am continuing the sock with the remain four because I don't like to change needles mid-project, but this will be the last project for these needles.
Next time, Christmas happenings here and progress on Roseann's scarf!
Copyright 2008 by G. P. Donohue for textillian.com