It's been a while since you have heard from me, again, hasn't it. Every time I think about posting to my blog, I think, if I just wait until X, I can include that in the post as well! The last of those items on the X list happened today, so today I am posting.
First off, I finished some spinning. Both of these fibers are from Fiber Optic.
The first is the 50% superwash merino/ 50% bamboo blend that I got as part of her "As the Whorl Turns" club. It was great to spin, as it was pencil roving and required no predrafting on my part. The second is the BFL/silk that I got from her at MDSW dyed in the gradient from gold-crimson-espresso. It spun incredibly fast. Both need to be blocked yet, since I plan to knit with both of them, but that can wait.
Next up is a toy that I knit for my great-nephew's first birthday.
The pick-up truck pattern and yarn came as part of a kit from Knitpicks. It was a great project, though sewing the tires on with the black yarn really was a test for my eyes. Here is the little guy after opening up the gift.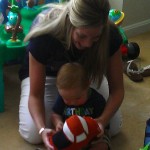 He seems to actually like it! And, he will still be able to use it no matter how much of a growth spurt he has.
Finally, the socks in the slip stitch plait pattern are done.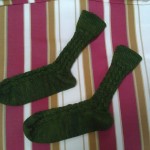 This are part of my gift to Mr. Penney for his birthday, which is today! They are in his favorite color (and that was no accident.) The yarn, Sanguine Gryphon's Bugga, was great to work with. Luckily, I have more of this in my stash, so more socks will be on the way (like that was ever in question.)
Happy Birthday, Mr. Penney!
Copyright 2011 by G. P. Donohue for textillian.com