Yeah! I got another pair of socks done.
It seems like it has been forever since I have completed a pair of socks, and after trying on the first sock of this pair, I was almost going to rip them out and try again. I had a devil of a time trying to get the sock past my heel because the ribbing of the leg was so tight. I am glad I didn't rip out though because, of all of my socks, these stay up on my legs the best. Yes, there is a little effort in getting the socks on; but once they are on, they are on!
The sock yarn is Dragonfly Fibers Djinni Sock in the Bad Moon Rising colorway. I love this colorway, so much so that I have the same colorway in her camel and silk roving which I started spinning last night. I was able to start spinning the camel and silk because I finished spinning the singles of this.
This is Sea Monster roving in the December Baby colorway, again from Dragonfly Fibers. What you see on the bobbin is a four ounce braid that I spun up a couple weeks ago, and the actual roving before being pre-drafted is taking up the rest of the picture. All it takes me is about four hours to pre-draft and spin a four ounce braid of this stuff. The fiber content is 50% silk/30% merino wool/20% seacell. Once I get into a plying mood, I will be making a two ply that I will use for weaving a scarf or shawl, depending on the yardage.
With having a long weekend, I finally got the first slip stitch sock done.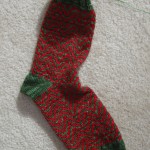 This sock is off the needle now after doing 25 rows of 3×3 ribbing for the cuff. It is great when a plan comes together, and that is what is happening here. The yarn is Shiela's sock yarn in Green Tamborine and WItchy Woman. This is taking a little longer than anticipated because of all of the slip stitches. Eight rows of the slip stitch pattern equates to about six rows of stockinette in length. Not a big deal, but something to keep in mind for later.
Ok, now brace yourselves. You are about to see something that you haven't seen on this blog in a while. Are you ready? Here it is.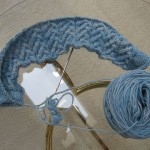 Yes, it is knitting that is not a sock or a baby item. It is a sweater vest for myself! The yarn is Shibui Knits Baby Alpaca DK that I got at Cloverhill's Super Bowl Sale. The pattern is Benedict from Jane Ellison Queensland Collection Book 9. I purchased the book from Eleganza Yarns in Frederick. There are a number of great men's patterns in that book; and it is the first book in quite some time that didn't just serve as inspiration for patterns for me, but actually had patterns that I wanted to knit. It does seem to be a book that you need to read the whole pattern before starting to knit the pattern, because she seems to be a little loosey goosey about informing you of where to put the decreases for the neckline to match how the sweaters are shown in the photos. Still, I already have a second sweater pattern picked out from the book that I want to make. Highly recommended.
Copyright 2011 by G. P. Donohue for textillian.com