I have to say that I was a bit surprised when I gave my co-worker the sweater for his daughter, that should be arriving any day now.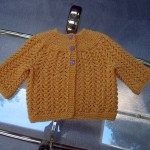 He got a little choked up and was extremely appreciative. There were a number of things that played into the emotions, like the reminder that he is about to become a daddy again real soon. But I think part of it was the fact that I made him something. (I say this, because when he first saw the sweater on this desk, he asked who bought it. When I said that I made it, his look totally changed to a look of "Wow!")
That reaction is one of the reasons I keep doing what I do. When I get it, it feels better than weaving in the last thread.
Copyright 2009 by G. P. Donohue for textillian.com