Well, I certainly have been doing a lot of spinning lately. I bring to you more finished product!
This is the superwash merino from Enchanted Knoll in the Mesmerized colorway.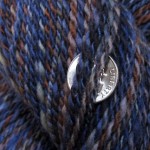 There is a fair bit of thick and thin in this because it just did not want to draft evenly for me. Of course, that is the fiber's fault, not mine. Of course!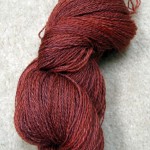 And this is the alpaca/merino/tussah silk blend from Spirit Trail. I spun it pretty thin (for me.)
BTW, none of the skeins that I have been showing you have been blocked or fulled. The reason for that is that I am planning on weaving with them; and weaving tends to undo the whole blocking thing, so I might as well just skip that part. If I was going to enter any of these in some kind of contest, then I would block them.
Other stuff is happening. More fiber is finding its way onto the wheel, and more socks are being knit, but that is for later.
Copyright 2009 by G. P. Donohue for textillian.com