Well, another two weeks and time for another update. Besides the club sock, I still have the heel experiment going on.
This time, rather than lining all of the increases up along the center, I am making the increases diverge from the center, forming a "V" at the bottom of the foot. I am getting near the heel turn, so I should find out soon enough whether this will work out any better than the first sock.
And, I seem to be on a spinning roll (spin/roll?) at the moment. This finished single is more merino from Enchanted Knoll, this time in the Mesmerized colorway.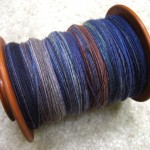 It spun up as quickly as Silk Road, but was a little tougher to draft. Not sure why, but it just was not as smooth drafting. Nonetheless, it still only took about 35 to 45 minutes for me to spin up a half ounce.
Next up on the wheel is one of the alpaca/merino/tussah silk blends from Spirit Trail. Here is some of it pre-drafted.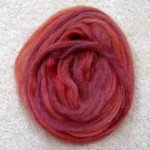 I seem to want to spin this as fine as I spun the corriedale from Grafton.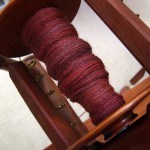 As a matter of comparison, it is taking me between 75 and 90 minutes to do a half ounce of this.
And all of this spinning got me to get out fast flyer and extra bobbins that I have for my Lendrum Saxony and finally apply finish to them.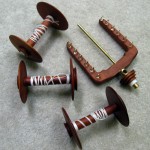 I used Tried and True Original Wood Finish that was a mix of linseed oil and beeswax. It worked great, only requiring one application to get the tone that matches the rest of my wheel, which I did with just boiled linseed oil (if I remember correctly) in three applications. Now I have eight bobbins total for my Lendrum. Woohoo!
Copyright 2009 by G. P. Donohue for textillian.com