Miss me? I have been busy, and the blog keeps sliding down the priority list. As an update, I am still working on the ribbed cable sock in Bad Moon Rising colorway of Dragonfly Djinni.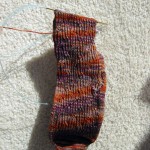 I moved over to doing these in Magic Loop, as the small 12″ circular needle becomes difficult to work cables in once I get to the leg of the sock.
Since we were having guests over for dinner earlier in the week, I had to do some cleaning up, and the easiest way for me to clean up roving that is "lying around" is to spin it! Yes, for me, spinning yarn counts as cleaning. Doesn't it for everyone?
In any case, this is what I spun up.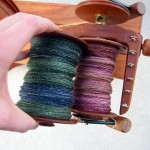 Both bobbins contain four ounces of Dragonfly's Sea Monster roving, which is 50% silk, 30% merino wool, and 20% Seacell (which is made from seaweed, thus Sea Monster.) The colorway in my had is Oberon and the one still on the wheel is Indian Corn. I picked them both up at the trunk show Kate had at Cloverhill back in November. The fiber spun up super fast. It was the easiest time I have had spinning something with silk in it. I am planning on using the singles together to weave a scarf, but that weaving is going to have to wait a while.
I have to admit, I wasn't really in the Christmas spirit this year. To try and kick start that spirit, I started these:
This is a slip stitch pattern that I heavily modified to fit the stitch count of the sock. The yarn is Sheila's Wullenstudio sock yarn in Green Tamborine and Witchy Woman. I was wondering whether the red was going to be too strong for the green, but now that I actually have things underway, I can relax because I think they are working out together just fine. And I can happily say that I am in the Christmas spirit.
Good thing, because I have a lot of work to do.
Hope you all have a Merry Christmas!
Copyright 2010 by G. P. Donohue for textillian.com