Well, as you might have suspected, I did go to the Maryland Sheep and Wool Festival the other week. It was a hot one, too. I can't remember it being that warm (up to 90 degrees) at the festival. Fortunately, this year, Columbia Sip and Knit had a hospitality "suite" just outside the entrance to the festival. So a big thanks to them for that. They helped out a lot of people with their lemonade and cupcakes.
As with every year, there was plenty to walk away with, and I certainly did my share. First stop was the Barefoot Spinner.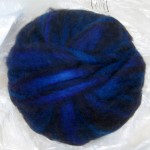 I just find her fiber so easy to spin and a quick way to generate some great yarn.
Then, I happened upon the Fold.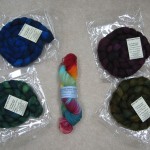 Actually, I happened upon them twice, once on Saturday and once on Sunday. On Saturday, I got the STR Lightweight in Cattywampus and BFL from Fiber Optic in Sapphire and Everglade. On Sunday, I picked up more BFL from Fiber Optic in Mulberry and Tuscany. I can not wait to spin these up. The colors are so rich and saturated. And when making my purchase on Sunday, I got to meet Kimber of Fiber Optic.
From the Fold, onto Cloverhill.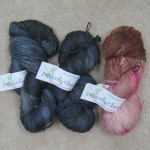 From Cloverhill, I picked up more of Dragonfly Fibers' Naiad in Black Pearl and Spring in Washington. And I happened to see Kate, who I first met at the Homespun Yarn Party.
Next stop, Spirit Trail.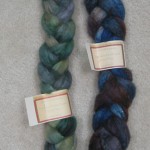 On the left is a merino/angora/cashmere blend in Celadonian Pines, and on the right is a baby camel/silk blend in River Bed. Luxury! Of course, seeing this now, I am kind of wishing I bought two of each braid. Hmmmm.
And on Sunday, I hit Miss Babs.
Working our way from left to right, there is Oregon Cellar and Jingle Jingle in the 3 ply, an unnamed brown in the wool/bamboo/nylon blend, and Denim and Bronze Plum in the 2 ply. I was kind of amazed by the organization of her booth. The racks were so that I was almost afraid to disturb the order of the yarn on them. Almost.
Now, looking back over this, I am thinking that I wasn't so bad this year. But then I remember that I also purchased a six pound light gray Romney fleece from Triple 'R' Farm that I dropped off at Zeilinger's to be processed. That should be arriving in July for more spinning goodness. I am hoping to spin the fleece up to weave a blanket, though I am undecided whether I will try to work with that fleece alone or combine it with some of the other fleeces that I have of a difference color. Decisions, decisions.
Now, why did I go back on Sunday? So I could pick up this.
Woohoo for me! More about this next.
Copyright 2010 by G. P. Donohue for textillian.com