Well, you know I couldn't stay good for long. The completion of two socks meant the commencement of two others. The first is in Dragonfly Fiber's Djinni Sock.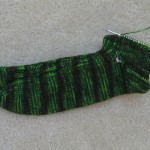 The colorway is Reluctant Dragon that I purchased at the Homespun Yarn Party. The stitch pattern is one that I have done before, the slip stitch rib from SKS. I started out the sock using a rib and moss pattern from one of the Knitting Treasuries, but it was just not working out as I had hoped. There was surprising little elasticity to the stitch pattern. Elasticity is not a problem with the slip stitch rib. In fact, I have had to change over to using the magic loop rather than my beloved 12″ circulars because the draw in of the pattern makes the 12″ kind of a pain.
You may notice that Reluctant Dragon is kind of dark, so for lighter knitting, I started another Naiad sock.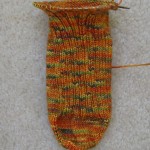 This colorway is Oriole – Dubious, which I also got that the Homespun Yarn Party. I am not quite sure what Dubious means, perhaps a test run of a colorway or something, but I really like how this is kintting up, and love the base yarn.
Oh, and I have started spinning up the fiber I got from Neighborhood Fiber at HYP.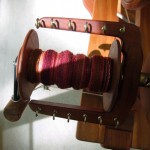 It spins up pretty easily, with me being half way through the braid now. Being part silk though, it does stick to my sweaty hands. A little baby powder helps with that problem, though.
And finally, there is this to explain:
But I will do that a little later. Right now, someone is looking to be petted.
Copyright 2010 by G. P. Donohue for textillian.com