While last weekend was my big weekend, this weekend is Mr. Penney's big weekend. Star Trek opened this weekend, and we are going to see it tonight. Lucky for me, I finished socks for just such an occasion.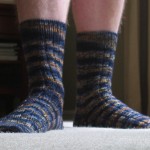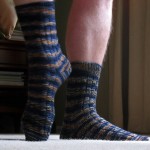 Yes, I finished the socks I was knitting with Dragon Sock in the Starry Night colorway from Dragonfly Fibers. The base superwash yarn that she uses is great, and this shade of blue is one of my favorites. It also helps that this colorways also happens to be my alma mater's colors.
In other news, the sock that I am working on for the sock club design has been ripped out, rewound into a ball, and I am starting over. It turns out that the foot was too wide on me, so I am making a few minor adjustments to take up the slack. Not a big deal, really; but it is a set back.
As for spinning?
The blue corriedale is spinning up well, though I am probably spinning finer that I really should for this fiber. There is a bit of a coarseness to it. To spin it, I just peel a strip off of the batt and spin from the one end, with no predrafting whatsoever. The photo is of about an ounce and a half (I guess) that took me about four hours to spin. Wish me luck.
Copyright 2009 by G. P. Donohue for textillian.com