This blanket started out as just wanting to make a blanket to enter into the blanket competitions at the Maryland Sheep and Wool Festival this year. Now, being that I came up with this bright idea somewhere around March, I knew I didn't have time to spin the yarn for the blanket. In fact, I wasn't exactly sure when I was going to be able to go and shop for yarns for this blanket either. Then it hit me, "I have been weaving a lot with sock yarns. Why not use the sock yarns that are in my stash for the blanket?" And so my quest began in earnest.
The sock yarns in my stash are mostly fingering weight and light fingering weight, so each skein is usually at least 400 yards. After decorating the bed with all of these yarns, I chose five skeins of Djinni (by Kate at Dragonfly Fibers) in different shades of blue/blue-green for the warp. I decided to wind all of the yarns together at once so that the color could blend together when viewed from a distance. (At least, that was my hope.)
I still hadn't decided on a color for the weft, and was immediately thinking of something around orange as blue's complement. But after seeing the warp chains, the warp reminded me of water, with the light reflecting off of it. I ran with that theme and went looking for a blue/blue-green for the weft.
Fortunately, just as I was finishing winding the warp chains to dress the loom, the Homespun Yarn Party came around for me to look for weft yarn. Kate was going to be there, as well as other vendors that may have a yarn to use as weft for the blanket. Because of the quantity that I needed (at least four skeins) I got there early. Evidently, a lot of other people "needed" yarn as well, because there was a line to get into the place. After doing a few loops of the place to determine my options, I was right back at Kate's booth, buying Djinni in the Blue Spruce colorway for the weft.
With the warp on the loom at 12 epi and a weft yarn in hand, weaving commenced.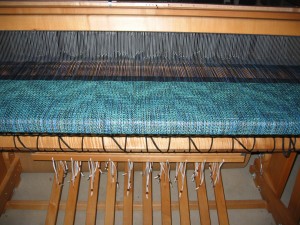 The pattern is a variation on what is called a progressive twill. The threading sequence, along with the treadling sequence, causes the pattern to kind of gradually go from one color to the other. I chose it so try and get two different effects, one of a simple twill from a distance, and close up showing something much more complicated. (It is not really that complicated, but it is not as easy to figure out compared to a simple twill.)
I found my Schacht end deliver shuttles just before starting the weaving, so I decided to use them. It turns out that this light fingering weight yarn is as big as I would want to go with these shuttles. That said, using them again after a long absence reminded me of how much I love them and why I got them in the first place.
The blanket was woven in about a month, with a few days of quality spent with me, it, and Mary Kate and Ashley. I actually had a day or two to spare before entering it into the festival, which gave me just enough time to obsess over it.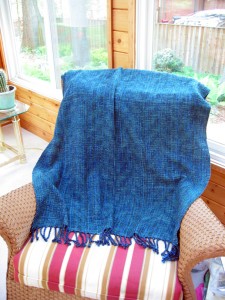 I really do like the finished blanket and am very happy with the results. I call it "Still Waters Run Deep", taking off the water theme and something that appears very simple and quiet from a distance, is actually rather complicated and interesting when viewed up closed. And speaking of up close.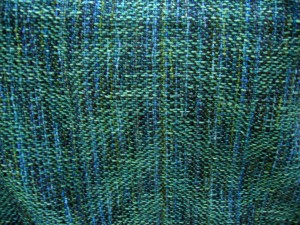 Copyright 2013 by G. P. Donohue for textillian.com