Well, it has taken me long enough, but I am finally updating my blog about the gradient spin along that Kimber of Fiber Optic had over on Ravelry. There were a lot of beautiful yarns spun up by people, some of whom even knit up the yarn in the time of the spin along. (Talk about over-achievers!)
When Kimber announced the spin-along, I immediately knew which of the gradients I was going to spin up.
Kimber had started offering pre-orders on a gradient every other week, and I believe this is the first one that I got in on. But while having the gradient picked out, I wasn't sure how I was going to spin it, just what I was going to spin it for: to weave a scarf as a practice for a bigger project later on. Then it occurred to me, I could do something similar to what Deb Menz does in her book, Color in Spinning.
So, I took the fiber and divided it into four strips along the length, so that each strip had the entire gradient. Then, I took each strip and divided that into the four, this time along the colors so that each piece was only part of the gradient. I took those four pieces and pre-drafted them together, resulting in this.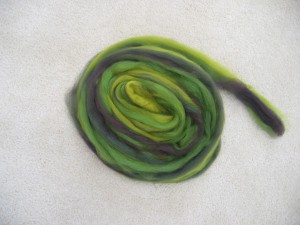 When spun up as a single, the color comes out kind of random in the yarn.
In time, I spun up both braids, and then plied.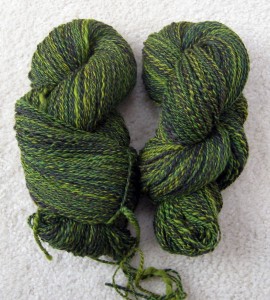 I do like the resulting yarn, though if I had to do it again, I would have done the first splitting of the fiber into more pieces (maybe six or eight) for shorter "color bursts". I am pretty sure that I will be weaving with this yarn, as I have tried knitting with it, and while it looks and feels great, stitch patterns have a hard time fight against such a big mix of shades and tones.
Copyright 2011 by G. P. Donohue for textillian.com.