Woohoo! Socks are done.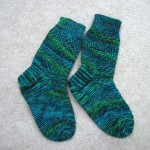 The toe and the heel of these socks are from Charlene Schurch class I took back at the MDSW. For the toe, I used Becker's magic cast on, rather than knitting a rectangle as the basis for the toe. I think I am going back to the rectangle method, as the magic cast on gives two little points on the toe when the sock is actually on the hoof. For the heel, it is a matter of increasing a number of stitches, than knitting a trapezoid for the bottom heel, followed by picking up stitches along the sides of the trapezoid and gradually knitting in the increased stitches into the back of the heel. That works pretty well, so I may be doing that again.
Not that I waited to be done the socks to start this, but last month I was spinning up July's shipment from Spirit Trail Fiberworks' club.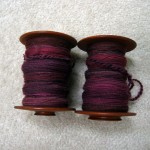 It is superwash BFL that I spun up as a single at around 24 epi. When I saw a notice on ravelry that she had more of the roving available, I contacted her (during Irene, no less) and snapped up the rest of it. Once it arrived, I spun that up to match the initial shipment so that I had a total of 18.6 ounces of singles.
With that much of one yarn, a woven shawl sounded like a good idea, so the last 10.6 ounces spun got wound into a warp, and the warp is currently being put on the loom.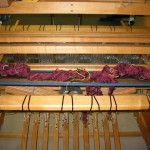 The yarn is kind of kinky right now, which is making it a bit of a pain sleying the reed, but it is not too big of a deal. I think I might add a dummy warp to the end of all of these warp ends so that I can use as much of the warp as possible.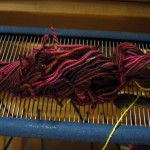 Who am I weaving this shawl for? More about that later.
Copyright 2011 by G. P. Donohue for textillian.com