Knitting is still going on here, especially with my weaving undergoing a re-group. More on that in the next post.
My first new project of 2011 turns out to be my first completed project of 2011.
This is Elizabeth Zimmermann's Maltese Fisherman's Hat from Knitters Almanac. I used two strands of Berroco's Ultra Alpaca throughout. Even with using two strands, the gauge only wound up being 11 stitches per 3 inches. The instructions are for 11 stitches per 4 inches. Luckily, most of the numbers were divisible by 3 in the pattern, so it was a simple matter to changing things over to meet my gauge.
I had to do this in quick order, because it is for a friend that is, literally, closing up shop and moving to Portugal. Yeah, wild thing to do! He wanted a traditional hat that is worn over there, and this Maltese hat was pretty close to the description, so I went with that. It took about all of 8 hours to knit. I used size US 10.5 needles (6.5 mm), which felt odd to me, being that I am usually working with 2.25 mm and 2.5 mm needles for socks.
And I am still working with those small needles, though.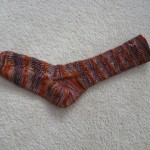 The first of the ribbed cable socks is done, and I have cast on for the second. I went to the trouble of twisting the knit stitches when doing the tubular cast off, since the whole rib is worked with twisted knit stitches. Now that I see how it looks, I am not sure if that addition effort for the cast off was worth it. Maybe it will be more noticeable after the sock has been washed.
I am also still working on the slip stitch sock.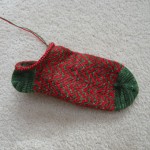 I did a short row heel because it solves a multitude of problems in doing things with a slip stitch pattern that I am just not sure how to do (like increases and decrease). Short row was always for the plan for me here, anyway.
I would like to know how to handle the change in colors in the round.
There is more than subtle change where the start of the round is. I am not to worried about it, but it would be nice if there was a way to avoid this. Since this is a slip stitch pattern, I have my doubts about whether a "jogless" jog would work here. Any thoughts?
Copyright 2011 by G. P. Donohue for textillian.com