So, what was I doing New Year's Eve?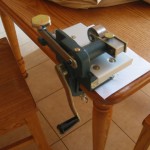 Well, during the day I was cutting strips with my rag cutter. I dug it out so that I could cut up the eight yards of fabric that I am using as the weft to weave the rugs that were being put on the big loom at the end of the last post. Those rugs are my parents' Christmas present. (My family is used to getting I.O.U.'s for gifts.)
The rag cutter basically works like a pasta maker. You turn the crank to feed the fabric through against the guide to get a consistent width strip cut by the rotary blade that is sandwiched between two rubber discs that press again a large metal cylinder, that is actually connected to the crank. The blurry picture below gives you an idea of what it looks like in action.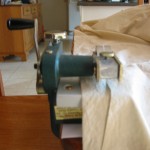 This took an amazingly long time. It was close to three hours to do the eight yards of quilting cotton in 1 1/4″ strips. I tried folding the fabric to cut more than one strip at a time, but that actually took longer because of having to keep the fabric together so that all of the layers would press up against the guide. This is probably one of the reasons why I don't make rag rugs that often. The last time that I used the rag cutter was when I made these rugs about ten years ago.
The cutter was also making an awful grinding noise during a portion of the turn of the crank. It was a concerning noise to me, and an irritating one for Bogey and Mr. Penney.
This tool is probably meant more for rug hookers that rag rug weavers. The rag cutter has the option of placing several blades together, and rug hookers generally use thinner strips (about 1/4″ wide as opposed to 1 1/4″ wide) of thicker fabrics (woolens rather than quilting cottons). I bought the cutter back when I thought I needed every weaving tool ever created. I am long over that period now.
In any case, all of the fabric is cut up.
And weaving has commenced.
I am unsure about how I feel about these rugs at the moment. I am kind of wishing I picked a darker fabric as the weft, but that may just be the fluorescent lighting in the basement. I have seven yards of warp on the loom, and I only have to get two 40″ long rugs off of it, so I should be able to try other fabrics without re-warping the loom if I think I can do better. Weave on!
Copyright 2011 by G. P. Donohue for textillian.com