Race day, which was two weeks ago now, was a brisk but sunny day; and as usual, my stomach was turning before the event. The nervousness starts on the drive to the event, as the last few miles take an eternity to drive because traffic is so backed up. Granted, I have learned my lesson with that, but the traffic back up seems to get worse every year. A blessing and a curse, I guess.
Once the car was parked, I got myself to the starting line. I didn't get a spot as close to the starting line this year as last year because I really don't like worming my way through all of those people, jockeying for position. They all just kind of look at you like, "And who do you think you are?" And somehow, the response, "The one that is going to beat you to the finish line!" doesn't seem appropriate.
Not jockeying for a position closer to the starting line turned out to be a big mistake, because my time (24:31.4) was close to a minute slower than last year. And all of that lost time was in the first mile, trying to get out from behind people who decided that maybe they will just walk instead. While the 1 mile clock said 7:00 when I past it last year, it said 8:15 when I passed it this year. Oh well, live and learn.
The actual race isn't the primary reason for being there anyway.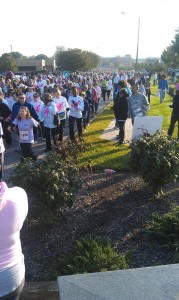 Everybody there was racing for someone.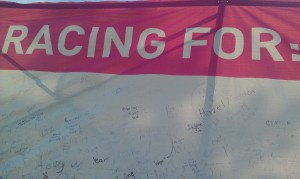 I wrote down who I was racing for.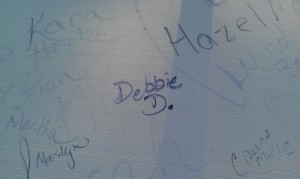 Thank you all for your sponsorship to help me do this.
Now for the shawl.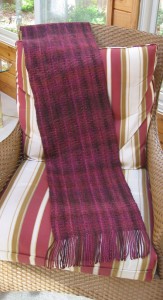 It is completely finished and ready to go to the winner of the drawing, Joan Hajek.
It took me a while this year to come up with a project to make. Part of the problem is finding a project with some kind of pink in it that I will actually like doing, because I am not a pink person. Surprise! Then, in July, I got the last shipment from Spirit Trail Fiberworks fiber club. Of course, the thought of this shawl didn't occur to me until the night that Irene hit us when I saw the notice that Jennifer had post on Ravelry that she had 10 ounces still available of the colorway. While the storm was raging away on us, I was messaging with Jennifer to get the rest of the superwash BFL. Good thing we didn't lose power until later that night!
After spinning the fiber up, I had to figure out what pattern I was going to use to weave it. Since I was using the same yarn for both the warp and the weft, I wanted a pattern that didn't instantly scream "PLAID!!!!" After playing around with different drawdowns (weaver-talk for how we figure out a weaving pattern), I settled on the one below.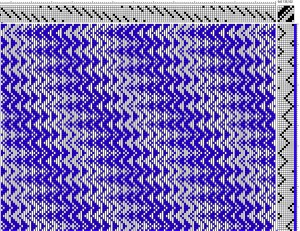 It is what is called a progressive twill, which basically means a basic twill pattern that gets its starting point shifted over to a different set of treadles with each start of the repetition. I thought the long diagonal would be longer than any color repeats, and thus play down the plaid a bit. (BTW, I have nothing against plaids. It was just not something that I wanted to go for here.)
Overall, I think the idea was kind of successful.
On the loom, the shawl was sett at 15 ends per inch, with a weaving width of 16″. Coming off the loom, the shawl measured 14.5″ X 59″. After fulling, the shawl measures 13.25″ x 54″. None of those measurements include the fringe. I believe a good bit of the draw-in, take-up, and shrinkage is due to using wool singles, which have a great deal of energy to release. A plied yarn in a less elastic fiber probably wouldn't have shrunk down so much.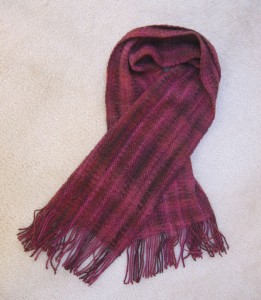 Again, thank you all for your help and support. I already have next year's fiber on order!
Copyright 2011 by G. P. Donohue for textillian.com.