Yeah! The first sock is done.
Sexy pose, no? Crappy photography, no? I do love the sock, though I am still not sure if I picked the right stitch pattern for the colorway (Winter Twilight). It is a fun knit, and that is what matters the most to me right now.
And do I like the yarn?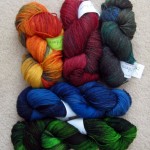 Yes. Actually, only the top three are Naiad from Dragonfly Fibers (in Oriole-Dubious, Canyon Flower, and Rocky Top). The bottom two are Djinni, also from Dragonfly Fibers (in Winter Twilight, again, and Reluctant Dragon). I got them at the Homespun Yarn Party this past Sunday. It was so close to my house that it is hard to stay away. I also got these.
The roving is merino and silk from Neighborhood Fiber (colorway unknown), as is the blue merino/cashmere/nylon sock yarn next to it (in Palisades). The other yarn in the photo is Bugga from Sanguine Gryphon (in Marpesia Marcella).
Now, you may be wondering where the yarn from Sheila is. Well, I have it on order, and you probably won't be seeing it here for a while, as it is going to be part of a gift for someone who may actually visit this site on occasion. I know, bummer; but just think: Anticipation!
Copyright 2010 by G. P. Donohue for textillian.com