It's been a while, hasn't it? Don't worry, I am still knitting. In fact, I am working on baby sweaters because pregnancy seems to be contagious at the moment. Two friends of mine are expecting their first offspring at any moment now, and my niece is expect her first child in July, so I have to get crackin'.
The first of these is done and delivered.
It is the Elizabeth Zimmerman Baby Surprise Jacket. This is a remarkable neat design, but I have to say that although it is all garter stitch, it is not really "mindless" knitting for me, at least in the beginning. This is because the decreases used for the miters at the beginning of the sweater don't lend themselves to regular stitch markers. You have to use something like safety pins that actually go in the stitch, otherwise you will just be constantly moving around stitch markers. Once the decreases were done, though, I was able to use the stitch markers to mark the stitches that get the increase on either side. It is just a matter of me getting over that initial hump. (Strange that the part involving increases wound up being the "downhill" side of knitting this garment.)
The yarn is Sheep Feet from Sheep Shop. (Say that five times fast.) It was a nice yarn to work with, although there were flaws, where they spliced the yarn, in each of the two skeins that I used. For the price, I expected better.
This is the current baby sweater that I am working on: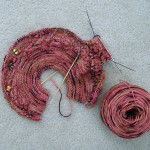 It is another February Baby Sweater from Knitter's Almanac. Since this is the third time that I am working this pattern, I am trying a different lace pattern for the main portion of the sweater. I made a slight change to the Vine Lace pattern from A Treasury of Knitting Patterns from Barbara Walker so that it is only a seven stitch repeat rather than the nine stitch repeat that it is in the book. (I did this by change the k2's to k1's.) Since taking this photo, I have finished the first sleeve, and am about to start the other sleeve. But problem that I am having at the moment is that the second sleeve is falling at an odd place in the lace pattern that I have changed over to. (The original sweater had no extra stitches outside of the repeats. The one I changed over to has one extra stitch.) One stitch either way probably won't make too much of a difference, but I need to think it through more to be sure.
The yarn for this one is Jitterbug, again. Colinette has upped the yardage on Jitterbug to 400 yards. This might make it valuable for socks again! Hooray!
Now, back to shoveling snow.
Yes, I am tired of winter. I became tired of it over a month ago.
Copyright 2010 by G. P. Donohue for textillian.com