It feels like forever since I posted anything fibery, so here is a nice big post to catch up on what has been going on with the textiles.
After finishing the STR heel experiment, I started on these socks.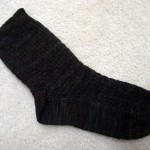 The sock yarn is Eidos from Sanguine Gryphon in the colorway Poesis. The colors don't show up well in my photography. (I either need a new camera, am a lousy photographer, or all of the above.) It is a rather dark sock, making it kind of difficult to work on at night. Note to self, stick with lighter colorways. I do like the resulting sock, though.
The pattern for the sock club is coming along well, now that I have taken a break from it for a few weeks. I made a number of edits and am knitting the revised edition now. I am pretty amazed at how fast the second one is going. After only a few days, I am already turning the heel.
The spinning has not stopped either.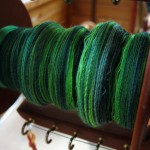 This is the Sea Kelp Salad from the Fiber Feast by Hungry for Handspun. I am wishing I spun this with not so much twist and not so thin, because it is taking quiet a while to work through the roving. (This is all my fault, not the rovings.) I figure I will do a chained ply with this single.
And I have gotten back to the loom.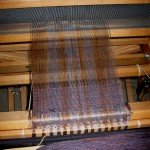 This is Sea Silk from Handmaiden. The warp is the Pewter colorway (I believe,) and the weft is of unknown name, but is browns and purples. My original idea for this scarf was to do a 3/1 twill rib, that you can see a bit of at the bottom; but that weave needs a tighter sett than 12 epi for this yarn, and making this a tighter sett would make the scarf narrower that I would like. That means that the scarf is now plain weave. So far, so good.
But that is not the only weaving going on.
These are squares that I wove using the Weave-It loom. It is a fun little thing that makes weaving portable. The Weave-It is actually my mother's; but I borrowed several years ago, and it never made it way back to her. She hasn't missed it, so far.
I am not sure what I am going to make from these squares. I may be a blanket of size to be determined. It is a nice diversion, at the very least.
Copyright 2009 by G. P. Donohue for textillian.com