So, what I had to the loom? I began with purchasing four skeins of Djinni from Dragonfly Fibers in the Spring in Washington colorway. Don't bother looking around for it. It was a colorway only available this spring. Whether it will be available again next spring, you will have to ask Kate.
I used two of the skeins to wind the warp, reserving the other two skeins for the weft. Since I had decided on making a shawl using a Swedish lace pattern, I went with a bit of a looser sett than I would for regular plain weave. Plain weave would had be at 12 epi for this yarn. For this shawl, I went with 10 epi. The warp was three yards long and was 22 inches wide in the reed.
This wound up being relatively pain free to warp the loom with, possibly because I sleyed the reed, wound the warp onto my sectional back beam, then threaded the heddles from the front, which is not the normal order in which I do things. I am finding that this works better for me with the sectional back beam that I have on the big loom.
Once the loom was dressed, I was ready to weave.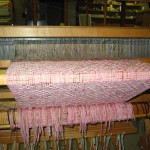 Unfortunately, the shuttles are cut out of the picture above, otherwise you would see that I am using two shuttles to weave this. Why? Because each shuttle is gettings its yarn from its own skein. I did this to try to reduce any patterning that dyeing would produce. This is a similar idea to alternating rows of knitting between two skeins of patterned yarn.
The weaving went fairly quick. If it hadn't been for a lot of other things going on during the month of July, I would have gotten it done then, but instead it came off the loom…
and got its fringe done and then wet finished at the beginning of August.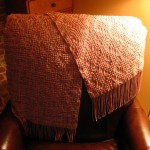 I will show you the tool I use to do the twisted fringe in another post. You will point and laugh at it.
Now who did I make it for?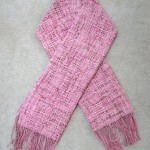 Well for the winner of the raffle of those that support me in the Race for the Cure. For every $5 you sponsor me, you get an entry in the raffle. The winner gets the shawl. The drawing will be October 10th at 8PM Eastern, so all donations must be made by then to be eligible for the raffle. As on previous raffles, family is not eligible (though I have something special for family.)
Thank you for your support.
Copyright 2010 by G. P. Donohue for textillian.com